January 14, 2022: Ioana Andrei Interview
Ioana Andrei
Ioana Andrei is a final year MA student at the University of Arts and Design Cluj-Napoca, arts and textile design department. Born on April 9, 1998, in Bacau, Romania, she presented from an early age an inclination towards the exact sciences that was combined with creativity and passion for the visual world. Being fascinated by the human component and the way it works on a physical, mental and analytical level, Ioana initially wanted to be a doctor. However, she came to direct her knowledge and talent to the artistic side while still interested in everything human and humanity.

Ioana's works have been featured in the Issue 4 of The Purposeful Mayonnaise Journal, pp. 20-22.
Website: www.behance.net/ioanaandrei2 IG: @textile_by_luna
Tell us a bit about yourself
I'm from Bacau, a small town in Romania. In 2017, I moved to Cluj-Napoca to pursue my dream of becoming an artist and started my studies at the University of Art and Design Cluj-Napoca.
Since I was a child, I've had a passion for painting and fashion, so I started my artistic journey. I was admitted for a BA in Arts and Textile Design, where I managed to have two Erasmus + scholarships. During the first semester of the second year of college, I took fashion and interior design courses at the Escuela Superior de Diseno in Murci to study a more technical part of this field. In the second semester I went to Accademia di Belle Arti di Bari in Bari, Italy. Here I enjoyed the classes in fashion, scenography and making decorative and design objects.
These two scholarships were a key point in my development, both as an artist and as a person, the main point being realizing the potential the textile arts and design have in the entire creative field. The arrival of the pandemic suddenly changed this path full of adventures, blocking me in the house and having me give up other plans I had in the direction of Erasmus scholarships. However, this fact made me much more productive in my artistic activity, managing to create projects for different niches.
I am currently in my final year of MA, studying the arts and textile design, preparing to present my final thesis. This final year, a key point was being selected for an artistic scholarship offered by the Royal Margaret Foundation of Romania. This represents a turning point in my life, a huge help financially, professionally, and morale-boosting. At the same time, I started to make my way into the Romanian art world, and I also managed to get international exposure.
What themes or ideas are you exploring in your art practice? Are your works purely visual, or do they also have a symbolic meaning?
Given that the domain of textile arts and design is open to a fairly wide variety of both products and fields that can be achieved, I preferred to experiment in as many different situations as possible. Thus, I made fashion projects, interior decoration, textile artworks, abstract painting on both paper and fabrics, print and surface design projects, and textile or decorative objects.
A fun fact about me is that I wanted to be a doctor most of my life, so I studied biology and chemistry intensely until I was admitted to an art university. This is quite evident in the work done over the years because even my BA project is practically a bean bag inspired by red blood cells. I have kept this passion, and I always return to this point of inspiration which refers to the physical part of the human body and its composition down to the smallest cell. Extending this subject, nature and the environment is an area full of resources for me, that I cannot exhaust from an artistic point of view.
I mainly prefer to limit myself to the visual impact of the works. This does not mean I do not have a concept, but I am not a conceptual artist. I am part of the group of artists who want to make art for the viewer's enjoyment and entertain the viewer. To attract the public and delight them no matter what social or intellectual background they come from. That's why I think the decorative area suits me so well.
What does it mean to you to be an artist in today's world?
I think that being an artist at this moment is entirely different from the image that the public has. Yes, the product you create is very important, but that represents maybe 40% of what being an artist is today. Because of social media, if you're not on it, the public doesn't know about you, no matter how beautiful your works or impeccable your technique. You have to know how to be a very good business person because you become a brand, even if you only want to sell your art. You have to be a good content creator, who knows their niche clearly, knows the clients and what they want, and knows what platforms to publish on and how to do that. You have to be a good manager because you have to be present at events, find exhibitions, join different groups, and try to collaborate with different artists. A lot is going on behind the scenes, and the audience doesn't see all the work that is not related to the art product itself.
I consider that the artist now is not just someone who sits in a studio and practices their own art; an artist is an entrepreneur in the true sense of the word.
What did you enjoy/are you enjoying the most and what did you find challenging about being an art student?
The best part about being an art student, I think, is the freedom you suddenly have to express yourself. Being enrolled in an educational institution, you are given certain homework you have to complete each semester, so you are exposed to different contexts to experiment. I personally came to do some work very dear to me that happened because I made a certain mistake or a certain small experiment on a topic that had potential. Also, a huge advantage is this networking that helps you. As I said before, I was lucky enough to have two Erasmus + scholarships which changed a lot of my perceptions and were defining for both my career development and my personal one. Also, as an art student or graduate, you have easy access to more exhibitions or events than you would have if you hadn't had an official art background. I'm not saying you can't become a very good artist or designer without going to art school, but it helps a lot because the field is extremely competitive.
The most challenging part I think, was the financial aspect. It is expensive to attend an art college, regardless of the field. I am not referring here to the tuition fee, because in Romania you have very high chances for scholarships, and even if you do not receive one, the fees are much lower than in the rest of the EU. I am referring to the logistics, materials and tools, especially in Romania, where there aren't many stores specializing in art supplies, and you don't have discounts for being an art student in the few specialty stores. You need various resources to find your way and to get to discover yourself, and that's very hard if you don't have the means to put your ideas into practice. Also, let's say you manage to pay for the materials and do your work, but then you need promotional space (gallery, fairs, events, etc.), professional pictures, digital content, things that seem small and insignificant but help you grow, and it costs money again. You have to be aware and prepared for them.
What are you looking forward to the most after your grad school graduation?
First of all, I hope to find a job with an interior decoration company because I really want to work in this area. For this, I will take a specialized course as soon as I finish my master's studies. Then I hope to continue building my artistic practice both nationally and internationally because I do not want to give up the purely artistic part, even if it is harder to maintain. At the same time, I hope that things will evolve nicely in order to succeed, and I will open my own design studio, but until then, we still have work to do.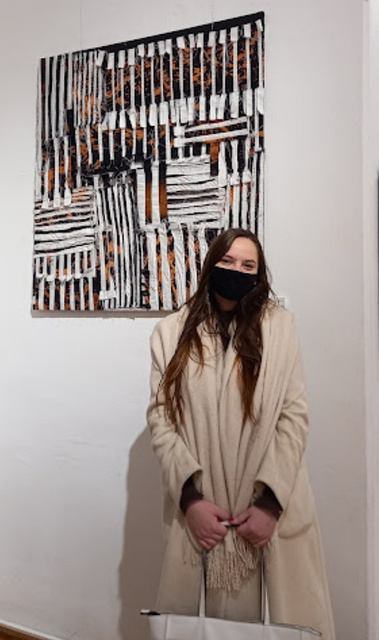 Do you actively search for inspiration or wait for inspiration to find you? What's the most peculiar thing or situation that sparked your inspiration?
Clearly looking for active inspiration. The expression "inspiration will hit you" is a very funny one, but in fact that "hit" occurs because your brain makes a combination of all the facts, experiments, works and experiences that you as an individual have had, and it automatically produces a batch of ideas for you. And for this to happen and especially to have good ideas you have to work hard and diversified and on the other hand, you have to live your life as beautifully as possible, intensely with as many challenges and different people, just to help you develop and automatically let your art do the same.
The most peculiar thing that sparked my inspiration was an osteon, which is the main structural unit of a compact bone. And with this I made an artwork of about 2 meters in Italy, called "Mini You."
What artist(s) do you admire?
Well, that is a long list. As main points I think I will mention brands like Dolce and Gabbana for the ways in which they build their Alta Moda collections in particular, and how they use prints but at the same time transpose and sell that Italian luxury image. Fashion designers like Zuhair Murad or Elie Saab for the attention to detail and the embroidery techniques used.
As an interior textile brand, an inspiration is a Romanian brand that is very well known abroad, Mind the Gap. Also Timorous Beasties, De Gournay or Avalana. And as textile artists I always follow Vanessa Barragao, Mariana Baertl or as painters Jessica Zoob or Kitty Sabatier. I am also always looking for inspiration in the year-end collections from the big university centres.
In an ideal world where money or time is not a constraint, what is your dream project?
I would really like it if I could turn spaces into extremely fun cellular worlds that would be an experience from all points of view. As I mentioned before, I have this part of me that wants to make the public interested in the scientific part of life, and I want to do it through interactive, breathtaking methods that impress you as an environment in itself. Not in a gruesome way, I don't want to shock the audience in a negative way, but I would especially like for the young audience to realize the complexity of the human body and to carry it in this entire journey with the help of textiles.