April 29, 2022: Mónica Esgueva Artist Interview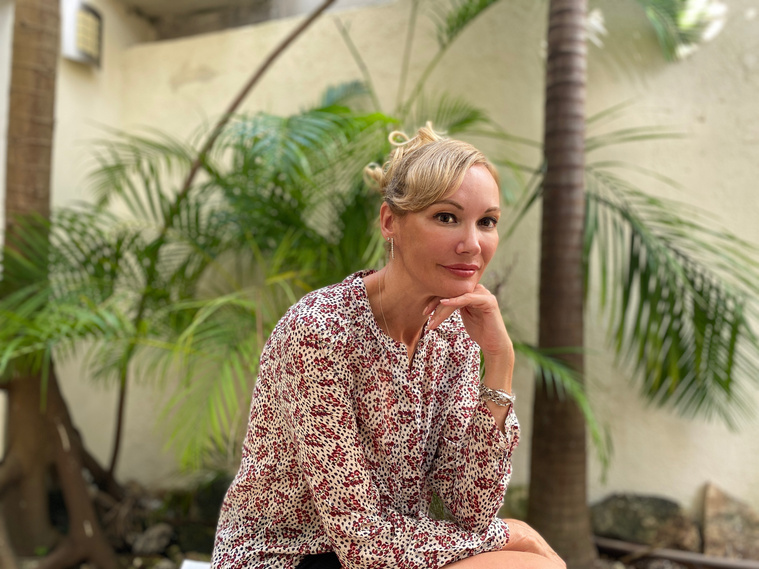 Mónica Esgueva
Having lived in London, Paris, Tanzania, and India, Mónica Esgueva is a visionary artist now based in Madrid, Spain. She started exhibiting her paintings when she was very young, and her artwork has been shown in exhibitions in the United States, Holland, Great Britain, France, Costa Rica, Italy and Spain.
"Through my paintings, I want the viewer to feel the beauty that surrounds us, trying to portray a vision of expanded awareness and the underlying sacredness of all that is. "
Website: monicaesguevaart.com
Tell us a bit about yourself...
I was born in Madrid (Spain), but I always had a thirst to see the world, to explore, to venture into the unknown, to have an interesting life. I have visited 115 countries, including many where I had gone on my own. By being able to let go of my comforts and daring to go into the unknown, I have had so many adventures all over the world. I have slept in the house of a prostitute in Thailand in order to understand their predicament and write a book about it. Working as a volunteer in an orphanage in Tanzania taught me the value of life, seeing those children that had literally nothing and yet were full of joy. Spending time with a tribe in the jungle of The Philippines showed me how to appreciate everything we take for granted in the West. Living and studying Buddhism for months at a time at the valley of Kathmandu or at the feet of the Indian Himalayas forced me to become more resilient and adaptable. Traveling helps alleviate the monotony of existence and rejuvenates one's soul. In my case, it has also helped me to be more compassionate and open-minded, qualities that I consider essential in art.
What is your earliest memory of creating art?
I was bornartistic. My early memories involve drawing and painting animals with remarkable accuracy. When I was at school, probably around the age of twelve, I had an art teacher that encouraged me to copy the masterpieces of Goya, El Greco and Van Gogh. He would get them framed and keep them for himself. My friends really opposed to that saying: "What is it going to happen when you become a famous artist? They will be worth a lot!" Ha ha ha.
My paintings were always shown at school festivals. For years, I taught myself to do famous people's portraits, capturing their unique character through drawing as a regular practice. Painting was as necessary and natural for me as breathing. When I was still pretty young, I remember telling my parents that one day I would be exhibiting in galleries in Europe. Farfetched as it seemed, my parents always took me very seriously and believed in me.
What themes or ideas are you exploring in your art practice? Are your works purely visual or do they also have a symbolic meaning?
As a multi-faceted creative person, there is an art to which medium I find myself working in. I use both writing and painting to empower each person's capacity to transform their life, to build bridges to the soul. There is an intense focus on and true presence in each project I undertake. At the same time, there is freedom and flexibility built into my role as an artist because I am not limited to just one art form. I have been drawn to writing books to show how to achieve inner peace and, somehow, I do the same thing with my paintings. I bring a piece of this transcendent world into every art piece I create. Art can guide us to connect with our inner light, illuminating the shadows and pains of our current predicaments. When people are deeply moved by art, they resonate with their own spiritual truth, with the essence of who they really are.
It is my utmost aim that by contemplating my works, one may momentarily have a glimpse of our immortal light, remembering the silent centre of the mystery that is our very soul.
The End of the World
What does it mean to you to be an artist in today's world?
The artists' role is to be a leader and a visionary: not only to think outside the box, but to be outside the box, contributing to the change we want to see in the world. Since we are all interconnected, the morphic field of each individual has the potential to influence the collective through creative acts. Mystical visions and experiences motivate us to question our assumptions about life and the world, challenging us to live more profoundly. The deeper an artist penetrates into their own infinitude, the more able they are to transmit that state. Making art (and sharing it) is a way for me to integrate those visions of a better world into daily life.
Art is a natural expression of each artist's idiosyncrasy. Our most meaningful creative work comes from deep inside, and it is an affirmation of the universal energy. The creativity of artists is actually cosmic creativity manifesting through us. The difficulty for most artists is to get themselves out of the way and let the spirit do its work. When art serves a greater purpose, it seeds the unconscious of both the artist and the viewer with a positive influence. Having the right motivation, art becomes a service to the divine by being an uplifting assistant to a suffering world.
Not all artists consider that art can be a spiritual practice. But with the proper motivation and focus, it can be so. For me, it is a daily exercise that enables me to keep developing the qualities of mental clarity, wisdom, service, and access to revelations of higher mystical states of awareness. My work is a contemplative method —as much as creative expression— that allows me to share my spiritual journey.
What does a day in the studio look like? Can you tell us a bit about your process?
Creating is my passion. I have written and published 8 books, and I am very perseverant in my creative work. Nowadays, as I have my studio at home, I usually start painting early in the morning and I spend anything between four and eight hours painting every day. It is tiring since I choose to challenge myself instead of repeating a certain theme or technique, and at the same time also exhilarating because of that!
Do you actively search for inspiration or wait for inspiration to find you? What's the most peculiar thing/situation that sparked your inspiration?
My writing and painting come from an inner calling. There is a spiritual force that prompts me to express the essence of our being, which is fulfilling, loving and magnificent beyond measure. Following this inner guidance, I have devoted my life to teaching and sharing ways out of suffering and into the inner peace and joy that are our true nature.
Through my paintings, I want the viewer to feel the beauty that surrounds us, aiming at portraying a vision of expanded awareness and the underlying sacredness of all that is.
My art is mostly derived from visions I have while in a meditative state of mind. My purpose is to transcend the physical world, inspiring the viewer to reach a higher ground and perceive the light that is within us all. As William Blake wrote, "If the doors of perception were cleansed, then everything would appear to man as it is, Infinite."
What artist(s) do you admire?
All creative people are inspired by something outside themselves. That is a fact. As artists, we tend to build on what has come before us. Every artist has a group of other artists who they have used for inspiration, motivation, and who serve to influence their works. In my case, there are a few people I credit with setting me down the path towards being an artist.
I could safely say that some of my greatest influences have been El Greco and Carl David Friedrich. I enjoy their meditative, spiritual approach to creating art. Gustav Klimt also had influence in my art at an early stage. I love his use of color and how he was able to achieve a loosening of naturalism, in favor of a personal symbolic language suggesting the workings of the unconscious mind, forcing you to hold your gaze, making you admire the aesthetic qualities of his paintings while trying to discern what's beyond its superficial aspects.
Left: A Fresh Perspective
How do you relax and recharge?
I appreciate having a tranquil life. Having cut a lot of social interaction in the city and friendships that are not truly enriching, I prefer spending quiet time with my beloved husband, meditating and contemplating, reading inspiring spiritual books, and just be as opposed to always needing to do things.