April 8, 2022: Mariluz Guerra Interview
Tell us a bit about yourself...
I'm an indigenous Kankuama woman from Valledupar, Colombia.
My earliest memory of creating art was as a 3-year-old toddler, when drawing rabbits and personified hearts on the walls of my home. In the beginning, my mom resisted it, but my dad convinced her to let me be. We had many rabbits as pets, and they grabbed my focus because of their furry complexion, their cute eyes and fun behaviour. The personified hearts were because of a commercial I saw on TV. It was the year 1992. Since then I always wanted to be an artist.
What themes or ideas do you pursue in your work?
At the beginning I was drawing and painting whatever grabbed my attention. At the age of 17 I focused on painting surrealism, expressing my emotions and imagination over life, uncertainty and things that I didn't comprehend or experience by that time (a romantic relationship, sex, travelling long distances, living independently, forming a family).
You are an audiovisual artist. What made you choose your field?
Before going outside my country to pursue a career, I had informal training on taking photographs and recording videos from a cinematographer (ex-brother-in-law). He showed me a universe I had never explored before: filmmaking. I was so excited to learn how everything I watched on TV and in the cinemas was done. All the great work behind movies. I had the opportunity to record the wedding of one of my sisters. At that time, I was also writing to express it in sequences of moving images. But at that time, I couldn't move further with this dream because of my lack of perspective. I didn't know if my mom could afford my studies. Later on, I got an opportunity to study through a scholarship in Chile in Graphic Design. I took it.
During my years in university, I could find true joy in the courses of audiovisual production, yoga and drawing. With a good amount of effort, I could obtain my professional certificates and jump into a 9 to 5 stable job.

I thought 2019 was a year of big changes because I decided to quit my job and start travelling. But in 2020, I was in Mumbai during the lockdown when I decided to write a script draft and share it with friends and acquaintances to develop our first short film Body Stories: Suraj & Julieta. Amidst the confusion and great uncertainty due to the global pandemic, I kept going regardless of the lack of resources because I felt the times were right to start. The team was ready and with a good disposition. We decided to record everything with our smartphone cameras, wearing our own clothes, moving from one corner to the other inside the Ashram we were living in. Learning about the light, how to direct, how to work in a team without profit in our minds. Such a great moment to learn and collaborate.

From that moment, I decided to focus my energies and arts on audiovisual expression.

How do you choose the subject of your films?
In 2019, after a period of deep introspection, I had to learn that the real healing comes from within, but it needs sources of inspiration in which the audiovisual arts are huge boosters.
Healing art came as the answer after completing my ikigai diagram.
Can you tell us about your process and the equipment you use?
I start by asking myself "What is the story that I need to express?" and "Why so?" And most of the times the answer is because many are going to feel related. Our generation has been facing huge changes, dealing with lots of stress, loneliness and fear. We need hope and we need to watch stories of hope to keep going and do our best. Then I start the writing process; I always go for guidance for this. I attend webinars and courses in order to deepen my understanding of writing a screenplay the best I can.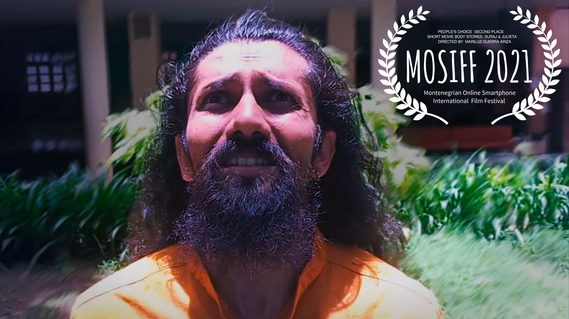 I allow it time to grow and transform. Then I go for the cast and crew (some of them known from my previous short film, others are new). When we start the production stage I give my 100%, fully enjoying and trying to change the image of the angry director. I truly want to listen to everyone, all the voices matter, but always with order and sense of time management and keepingthe focus on the story we are building.
The motto of Body Stories is to work with what we have at hand. That is the best way we found to continue building together. That is why we work with the smartphone cameras, exploring ways of recording with the highest quality and professionalism we can.
After obtaining all the audiovisual materials, we start the post-production stage. It requires lots of concentration, trust and perseverance. I'm currently learning to work with a proper team in this stage. The faith needed to understand and accept that the video editor is going to build the the complete shape of a new life (in this case Body Stories: Together) and for it I need to let him be, is huge :)
Can you tell us a bit about Body Stories?
This process called Body Stories is a short film series in which a global team of artists develop a variety of stories about self-awareness, inner-love, inner-peace, meditation, healthy communication and other healing art expressions through the bridge of resilience. Using the tools at hand (smartphone cameras, accessible locations, our own clothing) for reducing the financial gap for filmmaking and expand the creative possibilities of new talents.
Do you actively search for inspiration or wait for inspiration to find you?
I actively search for inspiration. But is not that difficult if I get out of the ruminating mind and start seeing inside and around.
What's the most peculiar thing or situation that sparked your inspiration?
Being under a soft rain while listening to a song and watching the Mumbai's airport closed and with few airplanes made me think about the illusion of time and how fragile we are as a species. That inspired me to think about our willingness to connect with others, to feel less uncertainty and stronger. To expand our souls. That is why Body Stories: Suraj & Julieta has those nostalgic touches.
What artist(s) do you admire?
Sophia Coppola. After watching for the 101th time Lost in Translation I decided to write my first screenplay.
How do you relax and recharge?
Listening to smooth music while working gives me that state of flow to continue with my work and stop the anxiety around what is going to happen tomorrow.
Tell us about the future: plans,dreams, anything you'd like to share with the world.
We have plans as Body Stories team:
- Continue working as a team, looking for new opportunities to collaborate, finding new team members.
- Try different roles in the filmmaking process, not being bound by our current roles.
- Continue working towards our collective vision for healing art.
- Preserve the authenticity and cultures to create unique audiovisual experiences that go beyond the mainstream.
Special thanks to all of the wonderful and talented team members that have been building with me the Body Stories audiovisual healing project:
Phalguni Agarwal (@phalguni_), Vikas Ramavat (@vikkaizen), In Hye Park (@filmnwords), Naveen Patil (@patilnaveen21), Derekk RossPamela Paz (@schahrazada), Krutant Thaker (@krutantthaker), Ben Sanderson (@ben.sanderson1), Benedicta Antwi (@ayam_kaylinedaniels), Charlotte Luke (@charlotte.luke), Christalynn Hamer (@christalynnh__), Desmond DJ Shot (@dj_shots), Nehal Solanki (@hari_hari_.com5_), Suzie Akopian (@dalaisyuzie), Jiabao Song (@j.song0216).