June 3, 2022: Hashon Milton Artist Interview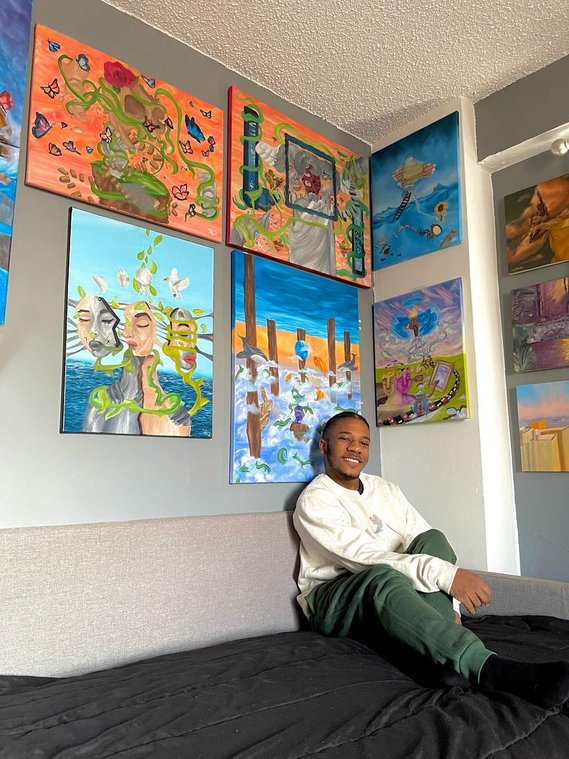 Hashon Milton
Hashon is a 17 year old artist living in New York City. From a young age, he used his art to express his creative mind. He began creating art in elementary school, using colored pencils to create fictional characters. Hashon was always fascinated by the infinite opportunities that came with creating art.
Hashon has explored various styles of art such as graffiti, portraiture, and landscapes. He has found a blend of them all in Surrealism, the style that he consistently practices today, where he can express the vastness of his imagination.
Website: creationsbyhashon.wixsite.com/onlinegallery
Instagram: @creationsbyhashon
Tell us a bit about yourself...
I was born and raised in New York City, more specifically the Bronx, which is where I currently reside. Being from the Bronx I'm always surrounded by art whether it be through the music, graffiti on the buildings, or the large murals in the train stations. Though I grew up surrounded by art, I've always had a natural love for it. I was drawn to it and didn't feel the same love for anything else and growing up, I knew I wanted to be an artist.
My earliest memory of creating art is from elementary school. It was late at night and I was on YouTube searching how to draw. The first thing that caught my eye was a video from the author, artist, and Youtuber, Mark Crilley. Following his step-by-step tutorial, I learned how to draw an eye and seeing my completed drawing brought me joy. About 10 videos later, my bed was surrounded by a bunch of sketches. A couple days after this night, I explored my creativity deeper by creating my own fictional characters and began diving deeper into my creative potential. I experimented with graffiti art, illustration, character design, and realism before I found my comfort in Surrealism. Surrealism allows me the freedom to create abstracified compositions that opens doors to a new world in my paintings.
Since then, I've advanced greatly as an artist. I've expanded the mediums I work with and found ways to monetize and creatively market my work. My perspective on art and its role in the world has shifted greatly. I see it as a tool that provides culture and beauty to our daily lives. When people look for ways to decorate their homes, offices, or lounge areas, they are looking for art. The city that I live in is full of art and the people around me are connected by art. Art is everywhere, there's no escaping it, and I want to be one of the people that provides a new sense of beauty and interest into the world with my paintings.
What themes or ideas do you pursue in your work?
I use my surrealist paintings to explore and understand human existence through the lens of various ideologies like spirituality, psychoanalysis, identity, and emotion. I discovered Surrealism in 2020 and went on to create my first surrealist painting, Natures Playground, an acrylic painting representing the result of the way in which humans damage the environment.
After painting Natures Playground, I became invested in our interactions, the decisions we make, our fate, and what all of this is influenced by. I studied spirituality, the idea that there is a higher and more powerful presence working in our favor which is represented in my pieces 11 : 11 and Three Hundred and Sixty-Nine have explored this. Psychoanalytic theories like the unconscious and the conscious which control the way our brain functions are present in my oil painting, The Unexplored Anchors.
My work as a whole is a tool that bridges the gap between humans and their inner consciousness. It embodies who we are as humans and why through complex visual images that speak on the depth of our placement in this universe. The narratives in my paintings are unique and present a new perspective on our lives. My work will lead to an ultimate awakening of the casual yet interesting lives that we live.
Can you tell us about your process and materials? What part of your process do you enjoy the most?
I use acrylic and oil paint to create the finished works that I display at exhibitions and on my social media. After nearly a year of painting with acrylic paint, by November of 2020, I began intensely observing other artists on Instagram and YouTube working with oil paint. I was primarily drawn in by the fact that it took a lengthy period of time to dry, giving me more control over my brushstrokes and blending. I made the choice to add oil paint to the array of mediums that I work with and fell in love. It was unlike acrylic; the consistency of the paint was much smoother which enhanced the application of paint to the canvas. My indulgence in oil paint did not halt my use of acrylic paint, however. I simultaneously created works with both mediums, sometimes using acrylic paint as a base layer and applying oil paint over it as a more finalized and detailed layer.
Before creating my paintings, I visualize what I want them to look like. Sometimes these visions are intentional and sometimes they aren't. When one randomly comes and it speaks to me, you'll find me opening my notes app to create a messy finger sketch or opening a sketchbook to make note of the idea. I'll then flesh out the concept with more details and begin diving deeper into my creative choices. I like to fill my pieces with symbolism and imagery, present viewers with an interesting story full of many underlying messages. Once satisfied, I'll begin prepping my canvas to begin the process of a new painting. My paintings can take anywhere from a couple of weeks to a couple of months to complete, all depending on the medium, size of the canvas, and complexity of the painting. All of my paintings are sealed with a layer of varnish that protects the paint from any harsh light sources, dirt, or dust.
The most enjoyable part of all of this is the moment that I paint the final brush stroke of a piece then step back and take in everything that I've done, always full of awe and disbelief. As an artist, sometimes I don't realize how impressive what I do really is. It takes an immense amount of control, dedication, and patience to create the paintings that I do. I take the most joy in recognizing my skill and potential which only pushes me to excel.
Left: Blank Space
What does a day in the studio look like for you?
A day in the studio can consist of me at my desk with my easel in front of me, eagerly painting. Or I can be reading art theory and art history books, learning how to improve my craft. Other days I'll be in my sketchbook pouring ideas onto the pages, sometimes finding inspiration for
new paintings. I've taken on new projects such as combining multiple canvases to create larger pieces and even stretching my own canvases.
You'll also catch me detaching from my artist mind and adapting to the mindset of a business owner. I invest time in managerial things surrounding my business, focusing on marketing tactics, my social media presence, and forging new connections. I'm often making new content to post but also evaluating it, making sure it's engaging and will spark interest. I'm taking time to understand different social media platforms as that's where the majority of my presence is. My studio time consists of me playing multiple roles and finding balance as a way to further my career as a creative entrepreneur.
Do you actively search for inspiration or wait for inspiration to find you?
Inspiration to me is something that I can look at, hear, or think of that makes me feel like getting up and creating. Throughout the past year, I've been inspired by art, music, architecture, nature, and tv shows, but the list goes on. I search for inspiration when needed but it also comes to me naturally at times. I could be on Pinterest looking at landscapes, figuring out how to add a Surrealist twist, or I could be casually listening to music and I'll rewind just to listen to a specific lyric that stood out to me; It'll send images running through my mind. In "Blue Dream" by Jhené Aiko, she sings about being in a state of peace and feeling like your dreaming. It makes me think of the peace you feel when looking into a sunset. I listened to this song on repeat before I created my painting Blue Dream which depicts blue figures in dramatic poses interacting with one another in front of a warm yellow sky. I wanted to mimic the calm nature that Aiko set with her song, using colors synonymous to her beautiful album cover "Souled Out" and a unique composition to create a new meaning for the term "Blue Dream." Inspiration comes from anything in the world that instills beauty and interest into the life that I live and I'm constantly finding new things that inspire me.
Left: 11:11

What artist(s) do you admire?
There's a long list of artists who I admire, take inspiration from, and am learning from. But I particularly think very highly of Salvador Dali, Giselle Mariel Ibarra, also known as Sin, and Aramis Hamer.
These three artists have provided me with a new perspective on life as an artist. Dali moved away from conventional art forms as the surrealism art movement arose. Sin introduced me to a new way of making my art my career and maintaining my passion. Aramis presents a new way of thinking about life and how to incorporate your beliefs into your art in new and exciting ways.
Tell us about the future: plans, dreams, anything you'd like to share with the world.

My biggest dream that I am currently working towards is being able to run my business, Creations By Hashon, full time and allow it to supply me with a stable source of income. Creations By Hashon is an art business that provides customers with physical goods that have unique and colorful artwork on them as well as original paintings with a goal to enhance the beauty of customer's daily life. I launched Creations By Hashon during quarantine and started by selling original paintings and stickers. As my career as an artist developed, I knew I never wanted to let go of my craft. However, at the time I was thinking about college and a future career path. I let the rumors of artist being broke cloud my mind and I doubted pursuing a career as an artist. When I discovered that there were many ways for me to build my presence as an artist and I could share my work with the world in so many unique ways I wasted no time in beginning my journey as a business owner.
I use my art to explore human existence and the factors that influence our decisions and fate. In college, I want to understand our existence on a more psychological level. In the Fall of 2022, I'll be attending Carnegie Mellon University to study Decision Science. The Social and Decision Science program at CMU is a data-driven program that uses real-world statistics to understand the emotional and external factors that influence decision-making. Through the Bachelors in Humanities and Arts program, I will be able to combine my study of decision science with art and create a blended learning experience that encompasses my artistic passion and fascination with the human mind. This will also allow me to understand the intricacies of decision-making and how to leverage them within my business and beyond.
I plan to use my education to continue my journey in entrepreneurship, create my legacy as a successful artist, and build Creations By Hashon into a world renown company.